>> Tuesday, November 10, 2009
i saw this idea on the kahrs 6 pack blog and thought i'd give it a try! click on the short answers button to participate or read other answers. the deal is every tuesday there will be 5 random questions to ask your kids. and as every mommy knows...you never know what's going to come out of those sweet little mouths.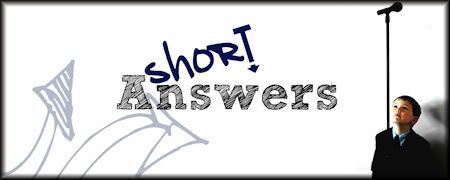 bethany (b) age 8 1/2 and kelley (k) age 10 are sharing their answers. i didn't ask them together, so i'd get answers that were original. this should be interesting and funny!
what's better, butter or cheese?
b-butter, because it's yummy on bread.
k-cheese, because it goes good on mac and cheese.
how are doughnuts made?
b-well, they are made by dough and different jellies sometimes. and they are made with duh, duh-duh, duuuhh...glaze!
k-uh, i'm thinking. they're made with dough, put in a mold shaped like a doughnut and filled with different fillings and toppings.
why do trees change colors in the fall? (keep in mind we live in florida and have palm trees. those darn things never change colors)
b-because it gets cold.
k-because the weather gets colder and it makes the leaves get dead.
what do broccoli, carrots and cucumbers all have in common?
b-they all have green-ness on them, they are all vegetables and they all taste disgusting. (but bethany, carrots are orange. well they still have green-ness on top before you cut it off)
k-they're all icky and supposed to be healthy. animals love them, but i don't.
what's a tapestry?
b-um, why do you type everything i say? why? i have no idea whatsoever.
k-a tapestry? a place where they tap on people? or make tape?